Events
Round Table Discussion: Agree to Disagree? Turkish and U.S. Policies on Syria …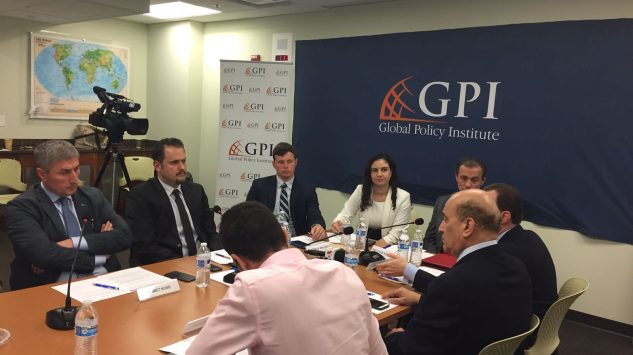 Round Table Discussion:
Agree to Disagree?
Turkish and U.S. Policies on Syria
WASHINGTON – On May 18 the Global Policy Institute www.globalpi.org , a Washington think tank, convened a panel of experts to assess US – Turkish relations, with special focus on policies regarding Syria right after Turkish President Erdogan visit to Washington. The event was titled:Agree to Disagree? Turkish and U.S. Policies on Syria.
The panelists agreed that, despite the cordial atmosphere during the White House meeting between Trump and Erdogan, the two sides are still far apart when it comes to the growing role of the US supported YPG (Syrian) Kurdish forces now armed by Washington as part of a joint effort to evict ISIL from its Raqqa stronghold.
Washington sees the YPG as reliable fighters against ISIL. Ankara sees them as allies of the PKK, the insurgent armed forces of Kurds based in Turkey's south east. Both sides agree that the PKK is a terrorist organization.
In the course of the Washington meeting, as Ilan Berman and Joshua Walker pointed out, there was an attempt to reassure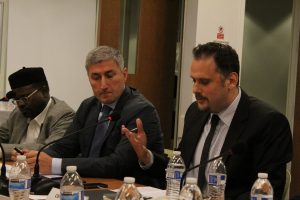 Turkey as to Washington's seriousness in combating Kurdish terrorism. The US side announced new avenues of cooperation with Turkish intelligence authorities aimed at fighting the PKK. But this is not enough. Ahmet Kose, in turn, highlighted the complexities of counterinsurgency operations, especially when it comes to establishing which group constitutes the main threat in a complicated conflict with so many participants.
Ankara's central question, as pointed out by Sinem Vatanartiran, BAU International University President and a participant in the discussion, is whether America's long term objectives include the creation of some kind of Kurdish entity encompassing Kurds in Syria and Iraq. If this were indeed the case, this would cause huge security concerns for Ankara.
On a different level, Walid Phares outlined a BAU International University policy proposal regarding Syria that could be supported by both the US and Turkey. The proposal would include setting up "training of trainers" centers in Turkey with the goal of preparing teachers who could provide education services to the tens of thousands of Syrian children who are now in Turkey on account of the immense dislocation caused by the Syrian conflict. A joint US-Turkey action plan on this issue would foster more cooperation that could possibly be extended to other areas. On June 14, BAU and GPI will hold an event on Capitol Hill on this topic of providing education to Syrian refugees.
---