Events
GPI Conference on Syrian Refugees .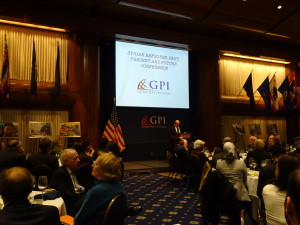 A conference titled "Syrian Refugees: Past, Present, and Future" was organized by Global Policy Institute at Washington DC National Press Club on Thursday, February 18.
Among the participants were the Ambassador of Palestine at the United Nations Dr. Riad Mansour, Prof. Selcuk Sirin of New York University, Prof. Walid Phares of GPI, BAU Global President Mr. Enver Yucel, Executive Director of CAIR Nihad Awad, Director of American Legion Joseph Sharpe, Arab League Ambassador Salah Ahmed Sarhan, founder of Fulbright Institute Harriet Fulbright and Dr. Halil Mutlu.
POLITICAL SOLUTION IS OUR RESPONSIBILITY
Keynote speaker of the conference, the Ambassador of Palestine at the UN Dr. Riad Mansour pointed that: "Following the humanitarian efforts, then it is our responsibility to do our best to come up with a political solution to the war in Syria." said the Ambassador. "If we cannot achieve this, then we would not have fulfilled our responsibility."
FOOD AND SHELTER ARE NOT ENOUGH
Another speaker of the conference, Prof. Selcuk Sirin of New York University shared the research findings regarding the state of Syrian refugees in Turkey. Sirin emphasized the importance of investments in education and healthcare so that refugee children would not become a lost generation. "We should go beyond food and shelter" said Prof. Sirin.
HOW MUCH DOES A REFUGEE CHILD COST?
BAU Global President Enver Yucel made a speech addressing the international implications of the refugee crisis, with an emphasis on the educational perspective. Reminding that Turkey has so far spent more than 9 billion dollars for Syrian refugees, Yucel criticized the 3 billion euros European Union promised to Turkey: "EU countries are discussing whether they should give this money. I am asking the EU countries: How much does a refugee child cost for you? How appropriate for you to close your borders to stop these people?"
Yucel also said that they invested another 3 million dollars this year for Syrian refugees, and planning to teach Turkish language to 300,000 Syrian students in Turkey with 5,000 teachers this summer.
WE ARE PROUD OF THE TURKISH GOVERNMENT
Nihad Awad, Executive Director of the Council on American-Islamic Relations (CAIR) stated: "We are proud of the Turkish government and Turkish people for hosting and protecting and taking care of the largest segment of the Syrian refugees in the world: we should learn from the Turkish model."
"The short-term solution is to take care of the refugees. As an American I urge my government to open its arms and its mind and to strengthen the tradition of America, being generous and being an open society to all those who need it."
For more information, download the conference booklet here.
---