Events
The New Inclusion Movement: Creating Diversity in Tech …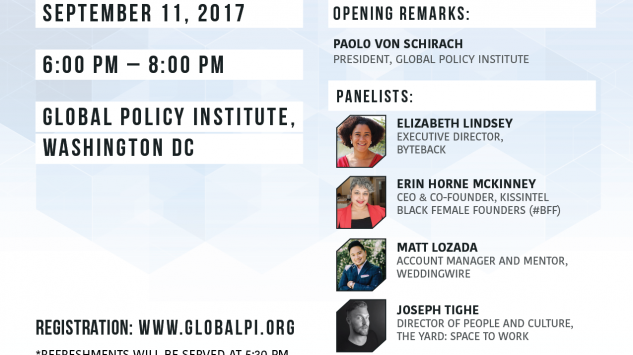 The New Inclusion Movement: Creating Diversity in Tech
September 11, 2017 – A diverse group of innovators discussed the enduring problems of bias and barriers for women and minorities in the tech world. What can be done to highlight the obstacles while providing constructing advice on how to overcome them? An honest recognition of the persisting prejudices would be a very good start. The ultimate goal is for companies to fully benefit from the enthusiastic contributions of all. The panelists agreed that "tokenism" does not equal genuine inclusiveness.
Event took place within the DC Startup Week which consists of one week of events to recognize, engage and celebrate the promising entrepreneurs in our city. Washington DC has a vibrant startup community. It is home to 70K startups, small businesses, 75K co-working spaces, 70K incubators and accelerators.
The Global Policy Institute was happy to host this event with Mentor Method and in cooperation with Dialogue on Diversity on September 11th, within DC Startup Week.
Panelists
Elizabeth Lindsey, MPA
Executive Director, Byte Back, Inc.
Erin Horne McKinney
CEO & Co-founder, KissIntel
Black Female Founders (#BFF)
Kevin Morgan
Director, Tech Sector Attraction and Retention, WDCEP
Joseph Tighe
Director of People and Culture, The Yard: Space to Work
Christopher Wink
Co-Founder and Editorial Director Tecnical.ly
Moderator
Janice Omadeke
CEO and Founder, The Mentor Method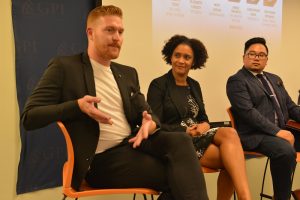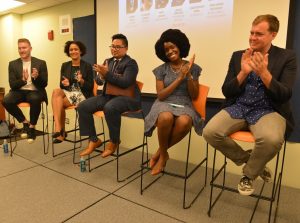 ---