Events
Fed Tech: Connecting Entrepreneurs with Inventions from Federal Labs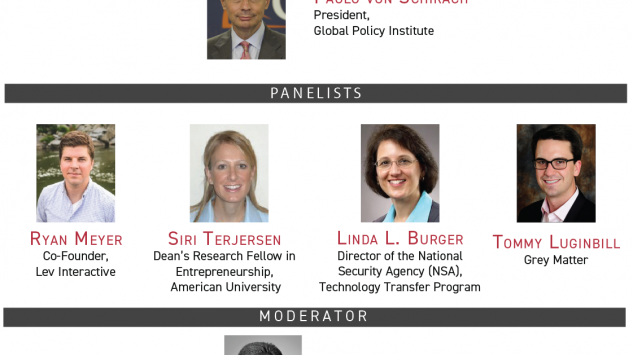 Fed Tech: Connecting Entrepreneurs with Inventions from Federal Labs
Federal research labs are producing cutting-edge technologies for government use, but many of these inventions have broader potential applications. An iPhone, for example, has 12 technologies that were initially funded by the federal government. When commercialized, government technologies can be a catalyst for new businesses and expansion opportunities.
There is a vast amount of potentially valuable innovation produced, almost on a daily basis, by highly qualified researchers and scientists working with the Federal Laboratories funded by the U.S. Government. Many of these facilities are located within the Greater Washington, D.C. Region. The challenge and opportunity are in finding creative ways to connect entrepreneurs with the innovators operating within the Labs. This will hopefully lead to the successful commercialization of many interesting discoveries. The panelists provided to the audience a "how to" guide on approaches and procedures.
The District of Columbia sits at the center of the densest concentration of federally funded R&D in perhaps the entire world.However, many of these technologies are never commercialized because they lack the right entrepreneurial partner and supporting resources. This discussion focused on ways to harness these untapped business opportunities by connecting inventors and DC entrepreneurs and equipping entrepreneurs from all backgrounds to build and scale tech transfer-born ventures.
Global Policy Institute hosted this event with Fed Tech within DC Startup Week on September 12, 2017.
Panelists:
Ryan Meyer, Co-founder, Lev Interactive
Tommy Luginbill, Grey Matter
Linda L. Burger, Director of the National Security Agency (NSA) Technology Transfer Program (TTP)
Siri Terjersen, Dean's Research Fellow in Entrepreneurship, American University
Moderator: Ben Solomon, Founder, FedTech
---