Events
GPI Panel Discussion Turkey – US Relations: A Clean Slate?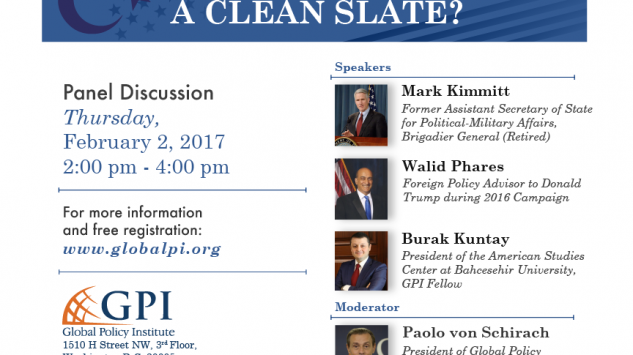 GPI Panel Discussion Turkey – US Relations: A Clean Slate?
On February 02, 2017 Global Policy Institute (GPI) held a panel discussion on Turkey – US Relations under the new administration in the US.
Openning speech was made by the President of the BAU International University Dr. Sinem Vatanartiran. Dr. Vatanartiran briefly said: "As Turkey our expectations from the new US administration is the maintenance of the strong spirit of alliance between the US and Turkey, as it has always been in the past."
As the moderator, President of the GPI, Paolo von Schirach briefly mentioned the history of the US-Turkey alliance and summarized the relationship between two countries in three words: "Friends, partners, and allies".
Brigadier General (ret.) Mark Kimmitt, Former Assistant Secretary of State for Political-Military Affairs, asserted the relations between Turkey and the US as "pragmatic, realistic and rational". Kimmitt emphasized the that the new US administration should not only maintain the already existing relations with Turkey but to further develop them for a relationship based on bilateral and strategic interests". Kimmitt: " US needs Turkey's support for the issues like Syria crises."
President of the American Studies Center at Bahcesehir University and GPI Fellow Dr. Burak Kuntay, emphasized that the recent US – YPG (PKK extention) partnership in Syria has been a great disappointment to Turkey. Dr. Kuntay referred to the new opportunities in trade between UK – USA and Turkey and claimed that the new opportunities for energy security may arise between USA and Turkey.
Foreign Policy Advisor to Donald Trump during 2016 Campaign, Dr. Walid Phares: "There will be no drastic changes between the US and Turkey due to changing leaders. The alliance relationship will still be maintained." Dr. Phares: "Both countries must be transparent in the new era. There are some important factors affecting the relations of two countries like PKK issue and Arab Spring. The war in Syria is dragging Turkey into the conflict. The US administration has been contemplating to create safe zones for the refugees i the region. Nobody wants the conflict in the region to spread further. The US and Turkey must have a common strategic objective against the violence."
---