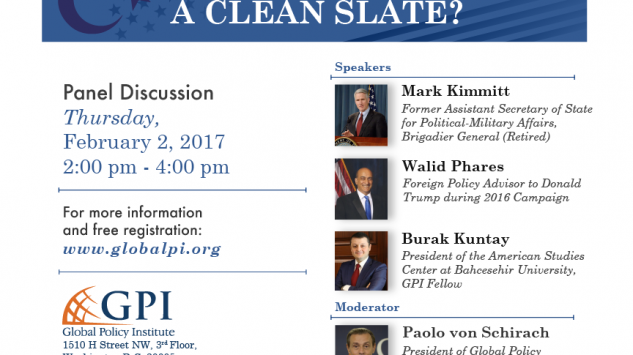 GPI Panel Discussion Turkey – US Relations: A Clean Slate?
February 02, 2017
2:00 pm – 4:00 pm
Venue: Global Policy Institute, 3rd Floor
What lies ahead for Turkey – US relations?
Could two long-time allies overcome current obstacles and become good partners again?
GPI hosts a panel discussion featuring distinguished experts who will discuss the possible foreign directions of the Trump administration towards Turkey.
PROGRAM
Moderator: Paolo von Schirach, President of the Global Policy Institute (GPI)
Mark Kimmitt, Former Assistant Secretary of State for Political-Military Affairs, Brigadier General (Retired)
Walid Phares, Foreign Policy Advisor to Donald Trump during 2016 Campaign
Burak Kuntay, President of the American Studies Center at Bahcesehir University, GPI Fellow
---