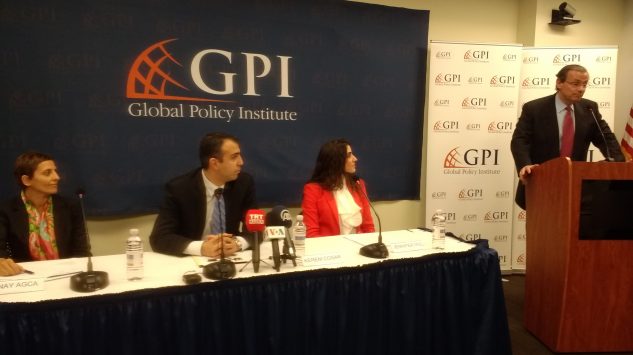 GPI & THO Held a Joint Panel Discussion on Turkey's Economic Outlook for 2017
On December 12, 2016 the Turkish Heritage Organization, THO, and the Global Policy Institute, GPI, co-sponsored an event on Turkey's economic outlook for 2017. This past year has been particularly challenging for Turkey's previously prospering economy. Turkey is facing political and economic uncertainty, fueled by geopolitical and domestic developments. Two U.S. credit rating agencies have downgraded Turkey's credit rating over concerns over economic stability.
The panel consisted of Jennifer Miel, Executive Director of the U.S. – Turkey Business Council of the U.S. Chamber of Commerce, and Senay Agca, associate professor of Finance at George Washington University. It was moderated by Dr. Kerem Cosar, associate professor at the University of Virginia. GPI President Paolo von Schirach, and THO's Executive Director Yenal Kucuker delivered opening remarks.
Global and Regional Uncertainties 
Dr. Kerem Cosar opened by addressing the global economic and political uncertainties, particularly in the EU, and their impact on Turkey's economic outlook. Dr. Agca echoed Dr. Cosar's argument and indicated that internal and external volatilities were creating important macroeconomic risks.
According to Dr. Agca, Turkey had faced significant political and economic uncertainties leading up to AKP Administration. Reforms enacted by the administration, following the 2002 crisis, positively changed Turkey's economic trajectory. However, this was a period of global liquidity because other countries were following the same monetary policies. Timely reforms, combined with capital inflows, boosted confidence levels. This led additional foreign direct investment to flow into Turkey, causing a significant 7% GDP growth.
Dr. Agca attributed some of Turkey's current economic problems to this growth period, which resulted in short-time financing primarily focusing on construction and private consumption. Today, Turkey is facing high external debt and a high current account deficit. When combined with both domestic and regional political uncertainties, risks have become steadily more pronounced. Lately, proposed changes to Turkey's constitution have caused further uncertainty about Turkey's institutional direction.
Opportunities for the U.S. and Turkey
Jennifer Miel discussed the current trade and investment atmosphere, specifically in reference to U.S. – Turkey trade and investments. Miel explained that there are more opportunities than some of the headlines would indicate. Currently, there are 1400 U.S. companies doing business in Turkey. In Addition, there are about 45,000 foreign companies operating in Turkey.
Miel suggested that the lira devaluation can help Turkey boost its exports, due to competitive pricing. Bilateral relations between the U.S. and Turkey are not bad. In fact there has been a continuing increase in exports. Miel also expressed confidence regarding relations with the new U.S. administration, citing that it is "pro good deals."
She also argued that Turkey has been a natural link between the Middle East, Europe, Asia, providing important trade and energy corridors. Due to these geo-strategic links, large companies continue to see Turkey as a strong manufacturing base and also a base for European operations. U.S. companies see opportunities in Turkey in various sectors such as energy, automotive, manufacturing, agriculture, healthcare and innovative start-ups. There is optimism about Turkey, due to its strong demographics, while the country is on track to grow 3% for 2016 and 2017.
Miel explained that, by leveraging its geo-strategic position as a critical energy corridor, Turkey has the potential to become an energy hub. Lower energy prices, which attract foreign direct investment, would be an important factor for manufacturing and agriculture investments. Considering that Turkey already has a fairly diverse manufacturing base, this would help Turkey to break-out of its middle-income trap and strengthen its economy.
Lastly, the transportation and infrastructure sectors are seeing major developments, with plans for a new airport that will be the largest in the world. This airport will leverage Turkey's geographic location to attract additional international traffic.
Agriculture, Healthcare and Start-ups
Miel indicated that the agriculture sector is one of Turkey's most inefficient. Despite this, agriculture provides opportunities for Turkey to integrate into global value chains and gain more investment from foreign companies, while boosting exports in this area. U.S. companies are continuing to look to Turkey for consumer products, such as olive oil.
She said that the health care sector has also seen enormous improvements, with medical devices and technology development, along with pharmaceuticals.  There has also been an increase in innovative start-ups in Turkey that U.S. companies are looking into for developing partnerships.
Reforms, Currency Fluctuations and Credit Ratings
Despite a depreciating currency, Dr. Cosar stated that real income levels have improved, even with the most recent 1.8% GDP contraction. However, Turkey's long-term and short-term economic success will depend on the success of various reforms. Miel argued that reforms on issues such as part-time labor and auto-enrollment for pension plans will help increase domestic savings and strengthen the banking system.  In addition to these reforms, Miel suggested that the draft patent law that is currently under review in Turkey will help the country to move up the global value chains. Miel also argued that improved education, a very critical reform for a country with favorable demographics, is key for Turkey's long-term economic success.
Dr. Agca argued that if Turkey reforms its education system improved human capital would amount to an important regional and global advantage. According to Dr. Agca, education must be channeled into high value sectors, specifically STEM related fields.
In regard to the recent credit rating downgrade, Professor Agca explained how Turkey lost its investment rate from two major U.S. agencies because of the existing political uncertainties. This negative development caused uncertainties among investors.
According to Miel, many investment banks argue that despite the downgrade Turkish companies are still rated positively. Miel also pointed out that, in order to lessen the impact of the credit downgrade, Turkey has been considering other trade options with the EU, Russia, Israel, Iran and event Egypt. In the tourism sector alone Turkey, particularly Istanbul, continues to serve as a hub for major international conferences.
Risks and Opportunities
Professor Agca listed the large current account deficit and increasing interest rates as Turkey's major economic risk going forward. On the positive side, Agca argued that Turkey's greatest opportunity lies in its demographics – primarily its young population. Assuming timely educational reform, Agca argued that Turkey can increase its value-added manufacturing base and exports.
Miel said that lack of investor confidence is the biggest country risk regarding Turkey; but she agreed with Dr. Agca that favorable demographics could help Turkey to mitigate this risk.
Dr. Cosar emphasized how resilience is a positive factor regarding the Turkish economy. He pointed out that immediately following the July 15 coup attempt people went back to work.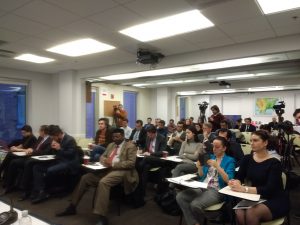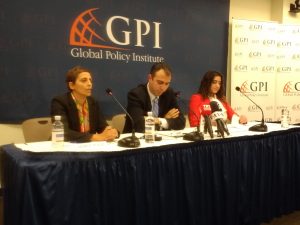 ---