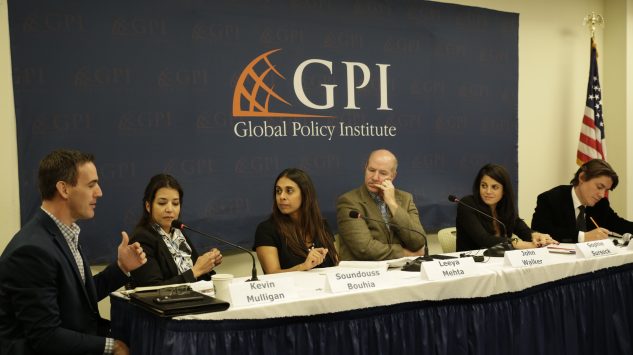 GPI & Sky Resilience Fund held a Joint Panel on Women Entrepreneurship and Big Data
Women are becoming critical economic players throughout the world. Key economic and development practitioners who spoke at a major Washington, DC event said so.
In preparation for the Global Climate Conference of the Parties 22 (COP22) in Marrakech (November 7-18, 2016), on October 11 Sky Resilience Fund (SRF) and the Global Policy Institute (GPI), a Washington think tank, in collaboration with the World Bank, hosted a panel focusing on Women and Enterprise in Washington D.C. The event highlighted the growing importance of Women Entrepreneurship and its growing links to Innovation in Africa and the Middle East. This panel discussion was the first of a series of round-tables launched by SRF and GPI focusing on Women and Enterprise.
The panel discussion was hosted by GPI. It brought together international practitioners and entrepreneurs working on "disruptive" projects. The panelists included:
Ms. Soundouss Bouhia, Sr. Advisor to the King of Morocco
Mr. Olivier Lavinal, Head of Women 4 Resilience Fund, World Bank
Ms. Leeya Mehta, World Bank Monitoring and Evaluation Specialist
Mr. Kevin Mulligan, CEO of Power7
Mrs. Sophie Sursock, Founder and Managing Partner of SKYKAPITAL
Dr. John Walker, Professor of Entrepreneurship, Columbia University
The moderator of the discussion was Andrea Zanon, Founder and Managing Partner of SKYKAPITAL.
GPI's President Paolo von Schirach pointed out that GPI forged a strong partnership with SRF (part of the SKYKAPITAL group) because this fund is investing in women and women-led enterprises. "It is indeed possible and desirable" —Schirach added– "to aim for resilience and economic growth, while at the same time promoting the role of women in society."
Andrea Zanon commented: "SRF's vision is to bring together different experiences in investment, development and entrepreneurship leading to real solutions. We shall invest in companies led by women across the Middle East and Africa that have a true impact on their societies".
As a follow up to the Washington event, SRF is co-organizing with the World Bank and the Branson Foundation a side event to the COP22 in Marrakech on November 11, 2016.
---