Issue Briefs
After Merkel's Narrow Victory Governing Germany Will be Difficult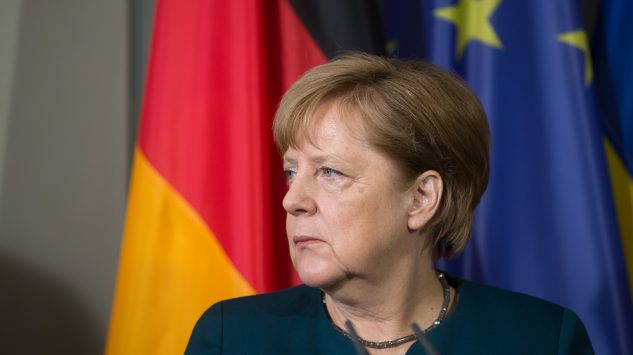 After Merkel's Narrow Victory Governing Germany Will be Difficult
By Michael Binyon
September 25, 2017
The election victory of Angela Merkel, the German chancellor, who has been swept back into office for a fourth term, confirms her as the undisputed leader of Europe and one of the most influential statesmen in the world today.
Stability for Europe
Her return will be welcomed across Europe, where she has been seen as a stable and stabilizing factor in the continent's politics. Indeed, almost all major decisions in Europe have had to wait for the outcome of the German election. No one doubted that she would win – she has long been popular because of her low-key leadership, her caution and her readiness to compromise.
Growing anti-immigrant sentiment
But her victory was less decisive than her supporters had hoped. There is now considerable worry that the spectacular rise of the far right will make it difficult for Merkel to form a new coalition government. Her decision to admit around a million Syrian refugees in 2015 caused deep anxiety and strained Germany's resources to accommodate them.
It left a big dent in her popularity. It also fuelled the growth of a strident right-wing opposition to immigration, especially from the Muslim world, which was exploited by the Alternative for Germany (AfD), a new party that for the first time has won enough votes to gain seats in the Bundestag.
Need to form a new coalition government 
The AfD has now won a remarkable 13.5 per cent of the vote, and will be in the Bundestag for the first time. They will be shunned by the other parties, and have no hope of being included in any government. But Merkel now faces a difficult task to form a new coalition. Her own party, the Christian Democrats (CDU), does not have enough seats to govern on its own. The opposition Social Democratic Party of Germany (SPD) had been in coalition with the ruling CDU for the past four years, but this has been disastrous for them electorally – they lost heavily in Sunday's election, slumping to only 21 per cent of the vote, their lowest total since the Second World War. This will make them reluctant to go into coalition again as Merkel's junior partners.
Working with Free Democrats and Greens?
That leaves her with a difficult choice, attempting to bring the Greens and the Free Democrats, both small parties, into a ramshackle and scarcely coherent new alliance. She cannot find common ground with the Left – the remnants of the old communist party of East Germany. What is unthinkable for her, and would be disastrous for Germany's image overseas, would be to form a coalition with the AfD – who are seen by many of Germany's neighbors as neo-Nazis, an image that is toxic for the majority of today's Germans.
Agenda priorities
Forming a new government will take at least two or three months. Merkel will then have to focus on the bigger issues of Europe, where everyone is waiting for her leadership. The British are hoping that she will be able to nudge forward the faltering negotiations on Brexit, Britain's exit from the EU. They are hoping that Germans' interest in keeping open the lucrative British market for German cars will persuade Berlin to put pressure on the EU negotiators to be flexible. It is a vain hope. For Merkel, Britain's problems are of minor significance. Far more important will be the three big challenges facing the EU itself: the continued control of immigration; the effective management of the euro; and the relaunch with France of European proposals for greater co-operation at a time of growing Euroscepticism among many voters.
How to work with America
Another challenge will be to maintain the transatlantic alliance with America. The election of Donald Trump has provoked a new mood of anti-Americanism and a sense that Washington is now an unreliable partner. This has serious implications for NATO, which would collapse if the link with America was broken. Merkel must make it clear that Germany will remain a dependable political and military partner of the US, even if it does not approve many of President Trump's policies.
Handling Russia
She is also faced with the dilemma of how to handle President Putin. Although in the past she had a cordial relationship with the Russian president – they both speak each other's language fluently – she joined her NATO allies in firmly denouncing Russia's seizure of Crimea and its military help for separatists in Eastern Ukraine. Berlin did not hesitate to impose economic sanctions on Moscow over Ukraine although Germany is by far Russia's most important western trading partner. Together with France, Germany is also one of the two key western countries that signed the Minsk II treaty, the blueprint for a settlement in Ukraine that has so far remained unfulfilled.
She will now make a fresh effort to restart a dialogue with Putin and persuade him to put real pressure on the Ukrainian separatists. She would like to see the lifting of sanctions on Russia, and will warn Moscow not to count on any hoped-for cozy relationship with Trump to get sanctions removed.
Reluctant leader
Germany is nevertheless a reluctant leader of Europe. Its history means that it is determined never to be seen again to bully its neighbors. It wants always to work in concert with its European partners, particularly with France, with which it has a treaty of friendship. But Germany is now far more powerful economically than France, and Merkel will have to make a big effort to reassure President Macron that he too will play a significant  role in leading Europe (For both of them, Britain is now more or less out of the picture because of Brexit).
What Merkel certainly does not want is to be seen as some kind of alternative to the US president as leader of the western world. She disagrees profoundly with Trump on many issues – Iran, climate change, the future of NATO and global trade policy among them – but knows that Germany's security and that of all Western Europe depends ultimately on the US nuclear umbrella and continued American engagement with Europe. She has therefore tried to keep open all communication with the White House – even though their first meeting in Washington displayed a visible public coldness between them.
Implications of the strong anti-immigrant sentiment
The rise of the anti-immigrant right in Germany will also complicate Merkel's attempt to deal with the sensitive issue of immigration and the thousands of people still crossing the Mediterranean to reach Europe. Merkel was the key figure in negotiating an agreement with Turkey to prevent migrants crossing over into Greece and into the European Union.
But in a series of increasingly bitter personal attacks, President Recep Tayyip Erdogan has attacked Merkel personally and denounced German attitudes to Turkey. She now faces a dilemma: she needs to ensure that Turkey sticks with the deal on refugees. However, given the anti-immigrant mood in Germany, she must be seen to take a tough line against Turkish pressure and refuse more concessions that would allow any further immigrants into Europe.
A complicated political scenario
The divisions within Germany, exposed by the election results, will preoccupy the chancellor in the coming months. If Europe was hoping for German leadership to tackle its problems, it will have to wait a while. And Angela Merkel, for so long a dependable figure on the scene, may be forced out of office before completing the next four-year term. Confusion and instability in Europe's biggest and richest country is the last thing Germany's neighbors need.
Michael Binyon is a Global Policy Institute Senior Adviser. He has been an editorial writer, columnist and foreign correspondent for The Times (of London) since 1971. For 15 years he was based overseas, reporting from Moscow, Washington, Bonn and Brussels, before returning to London to be diplomatic editor in 1991 and becoming the main foreign editorial writer in 2000. He retired from the staff in 2009 but still writes for The Times and other publications, and is a frequent broadcaster for the BBC and French, German, Canadian, Russian and Middle Eastern radio and television. He published "Life in Russia" in 1983, has won two British journalism prizes and was awarded the OBE by the Queen in 2000.  
The views and opinions expressed in this issue brief are those of the authors and do not necessarily reflect the official policy of GPI.
---