Issue Briefs
Britain's Ineffective Prime Minister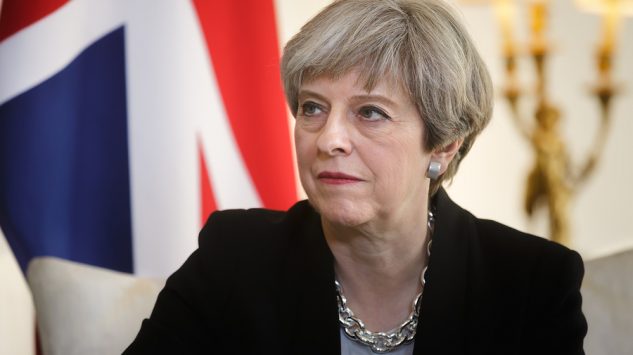 Britain's Ineffective Prime Minister
Michael Binyon
January 22, 2018
Bad luck attracts more bad luck. Theresa May, Britain's embattled prime minister, has already suffered almost a year of political setbacks, blows to her authority and embarrassing squabbles and resignations from her cabinet. Last week came another blow from across the Atlantic. Donald Trump, leader of Britain's closest political ally, announced that he was cancelling his planned visit to London.
Trump not coming to London
The ostensible reason was that he was no longer willing to perform the official opening of America's massive new £750 million embassy in London, because he believed that President Obama had made a bad deal in selling off the old building in central London too cheaply. Analysts and White House commentators quickly dismissed this pretext. The real reason he would not go to London, they said, was that he was angered by comments about his policies by Mrs May and opposition Labour politicians. And he was also fearful of the promised big protests against him on the streets.
British politicians were unsure how to handle this sharp rebuff. Several blamed the Labour opposition, especially Sadiq Khan, the mayor of London, for the personal attacks on Trump. Many said that Britain should be more welcoming, as a presidential visit was necessary to underpin strong relations between the two countries. Almost all acknowledged that his abrupt cancellation was a clear signal that, to the Trump White House, Britain hardly matters any more.
UK not as important for Washington
It is not simply a question of Brexit, after which the Americans think that Britain, isolated from its European partners, will become less useful as a U.S. ally; it is also the question of May's vanishing authority. Donald Trump – whose mother was Scottish and who still owns golf courses and other property in Britain – has a sentimental attachment to Britain, and has made no secret of his wish to be entertained by the Queen on the promised state visit. But now both the visit and the need to go to London are disappearing. More than 1.8 million Britons have signed a petition against a full state visit and all the trapping of royal hospitality that go with it. Many more have objected to any honour for Trump. No date has yet been fixed, and the subject seems now to be mired in political uncertainty. After the cancellation of the working visit, a full state-visit may never happen.
Theresa May is in trouble
May herself also now carries less weight in Washington. Her inability to keep control of her fractious party, her political paralysis over the Brexit negotiations with Brussels and the likelihood that she will be dumped by her party colleagues at almost any time means that she is not an ally who can deliver anything much.
This sense that she is again politically on the rocks was reinforced this month, when she attempted to reshuffle and refresh her cabinet of ministers. Commentators and politicians all said that the face of the Conservative party was too "pale, male and stale". She needed to bring more women into government as well as ethnic minorities and younger politicians. So she attempted a big change of personnel. But it turned out to be a disaster. Several of the ministers refused to be moved to other posts. One, the female education minister, resigned in anger. There were no big new names promoted. And after the changes, the cabinet still looked "pale, male and stale".
Weak leader
The fact is, as everyone has noted, that May does not have the power or the courage to sack her main critics or her most ambitious rivals. She would like to get rid of Boris Johnson, the foreign secretary, but does not dare as he is still a powerful supporter of Brexit. She does not like Philip Hammond, the Chancellor of the Exchequer (finance minister), but needs him to steady the economy in difficult times. And several ministers who have been seen as lazy or incompetent have been allowed to remain in their jobs.
Bleak outlook  
The botched reshuffle takes May back to the political crises of last year. In the past month or so things seemed to be going better. Britain had finally got agreement from Brussels to move on to the next stage of talks about future trade relations with the EU. May was feeling more confident as no one in her party was openly now talking about a plot against her. And the British economy was doing surprisingly well, with exports rising because of the weakness of the pound sterling.
But now she is again seen as a weak prime minister, presiding over a divided government that has no firm plans for any new policies. There are three main weaknesses which will probably make it impossible for her ever to regain full authority, let alone become another Thatcher, as she had hoped.
The first is that she has no political power to make her opponents fear her. This is largely because of her insistence on calling an election last year which she almost lost. The government has no majority in parliament, and is therefore terrified of any proposal or reform that would be opposed by rebel Conservatives and bring down the entire government.
The second weakness is that she has not appointed experienced politicians to run her communications team or to look after the appointment of new staff. There are few people around her who are able to predict how television and the press will react to any political move. And as a result, Downing Street often makes elementary error – such as announcing a new chairman for the Conservative party and then finding that it was the wrong name.
Policy confusion
The third weakness is that there is no clarity over what the government wants to do. There are many areas that need urgent political action: the shortage of housing, the underfunded National Health Service, the growing gap between high-paid employers and the low wages of many workers. There is an urgent need also to improve universities and to increase social mobility.
The Prime Minister has made statements about the need for action in all these areas. But nothing has happened. No new policies have been announced, no new money has been allocated and no preparations have begun for fundamental reforms. It is as though the government is simply talking about changes without making any changes at all.
Rising discontent
This sense of paralysis is producing rising discontent in Britain. The government is seen as incompetent, worn-out and out of touch. Young Britons are alienated from politics, and extremism is on the rise. At the same time Brexit threatens to upset huge areas of life in Britain, as hundreds of thousands of EU workers now employed in the health service, in agriculture and in service industries return home, leaving vital sectors critically short of staff. Meanwhile, there are big argument still between those who want to cut all links with the EU and those who want to keep the benefits of the single market. And no one knows what the government wants from the current talks in Brussels.
Few voters want a new election. Even Labour, riding high in the opinion polls, is itself divided on Brexit and other economic issues and is not ready yet for power. And senior Conservatives, shaken by scandals over sexual harassment and other resignations, feel they must stick with Mrs May for the time being. So she continues on, uninspired and uninspiring, but knowing that for now she is unlikely to be overthrown. Maybe Mr. Trump will come to London one day, after all.
Michael Binyon is a GPI Senior Adviser. He has been an editorial writer, columnist and foreign correspondent for The Times (of London) since 1971. For 15 years he was based overseas, reporting from Moscow, Washington, Bonn and Brussels, before returning to London to be diplomatic editor in 1991 and becoming the main foreign editorial writer in 2000. He retired from the staff in 2009 but still writes for The Times and other publications, and is a frequent broadcaster for the BBC and French, German, Canadian, Russian and Middle Eastern radio and television.
He published "Life in Russia" in 1983, has won two British journalism prizes and was awarded the OBE by the Queen in 2000.  
The views and opinions expressed in this issue brief are those of the authors and do not necessarily reflect the policy of GPI.
---