Issue Briefs
Europe will Carry on without the U.S. and Britain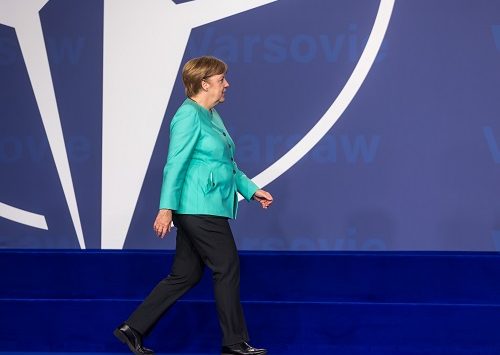 Europe will Carry on without the U.S. and Britain
Michael Binyon
June 1, 2017
Britain chooses a new government in less than two weeks' time. But the Manchester bombing and the massive security clampdown cast a long shadow over the election. Campaigning was suspended for several days, terrorism and security rose to the top of the agenda, and both the Conservative government and the Labour opposition were left floundering.
Conservatives are slipping in the polls
Now Theresa May has had to re-launch her fight to be re-elected as prime minister and to win a large majority for her party. It is not before time. The last three weeks have proved disastrous for the Conservatives. Poor campaigning, a major blunder over new social security proposals, and a lack of clear focus have drastically reduced her lead in the polls. She began the campaign with a lead of more than 20 points over Jeremy Corbyn, the opposition leader. The latest figures show that she is now only about 6 points ahead, and may therefore increase her majority in the House of Commons by only a dozen or so seats.
So the government has decided to refocus the debate on the big issue that triggered the election in the first place – Britain's decision to leave the European Union. Brexit will again be the main issue on which her party will campaign for the few remaining days. The Conservatives will argue that only Mrs May has the vision, authority and capability of negotiating a deal with Britain's 27 other partners in the EU that will prevent a rancorous and economically disastrous divorce in two years' time.
How to disengage from Europe?
Inconveniently, the stakes have suddenly become much higher. Angela Merkel, the German chancellor and the most powerful political leader in the EU, has just said that Brexit, together with President Trump's recent controversial visits to Nato and the G7 summit, mean that the EU can no longer rely on its two staunchest security partners – Britain and the United States. In future, she said, Europe will have to be resolute in forging its own path and taking its destiny into its own hands.
Britain becoming irrelevant?
For Britain, this comes as a bombshell. Mrs Merkel's remarks call into question the transatlantic solidarity that has been the basis of peace in Western Europe for the past 70 years. They undermine all the promises by Mrs May and her ministers that, although Britain may be leaving the EU, it is not leaving Europe. London will still be a reliable pillar of NATO and a close partner to its European Nato partners, she has insisted. Now she finds that the Europeans seem to be bracketing Britain with the capricious and still vague policies of the new American administration.
That is not only a big blow to Britain's global standing; it will also make a Brexit deal far harder to achieve if the Europeans believe that Britain is no longer needed either as an economic or as a security partner.
Europe without America?
Mrs Merkel's regret that she can no longer count on Britain follows President Trump's first official visit to Europe that has proved little short of disastrous. Instead of reassuring America's allies that his administration would, in the end, prove to be pragmatic in continuing the close transatlantic alliance, his remarks have renewed doubts about his commitment to NATO and his readiness to stick by the Paris climate change treaty. Mr Trump pointedly refused to endorse Article Five of the NATO founding charter, which obliges each member to come to the aid of any NATO country that is attacked. And he made clear that he still sees the Paris climate treaty as hostile to the interests of the United States.
Mrs Merkel, like most European leaders, does not enjoy warm relations with Mr Trump. She did not like his campaign rhetoric – and made that clear. She had a frosty White House meeting after he came to power. She did not appreciate his hostility to the EU or recent remarks that Germany was "bad, very bad" for selling too many cars to America. And she was upset by his stance both at NATO and at the G7 meeting.
Trump is unpopular in Europe
Others at the meeting were probably equally disappointed. Indeed few leaders, apart from King Salman of Saudi Arabia, have shown much enthusiasm for Mr Trump. But by speaking out as she did, she is in danger of turning a spat into a dangerous rift. Mr Trump does not like being contradicted or losing face. He is quite capable of doing a U-turn and embracing policies totally opposite to those he espoused earlier. Indeed, he often has, nudged perhaps by the cautious senior officials in his administration who would prefer a more traditional approach to US foreign policy. But he sees all opposition as a personal challenge.
Tough bargaining position for Britain
Mrs Merkel's remarks put the British prime minister in a very difficult position. She too disagrees with the US administration over key issues, but she believes it is important to try to work with Mr Trump. She now finds that Germany, and probably much of Europe, now thinks she is a Trump ally and therefore as hostile to European interests as he is. This makes it all the harder for her to seek Mrs Merkel's help in trying to reach a deal on Brexit. Britain appears to be caught in the middle of an argument between the EU and America just at a time when the Conservative leader wants to project an image of "strong and stable" leadership, able to remain friends with both Washington and Brussels.
For British voters, the accusation that Britain may prove an unreliable ally to their European Nato partners may become a self-fulfilling prophecy. It is bound to cause resentment, especially as Britain has been one of the biggest contributors to the NATO budget (and spends much more per head on defence than Germany and most other EU countries). As a result, British voters may also confuse the arguments over NATO with the arguments over Brexit and view the defence of Europe with increasingly cynicism.
May's poorly planned campaign
That, in turn, will damage Mrs May. Already she is under attack for a spectacular U-turn on her proposal that people should be forced to pay for their care in their old age. She has tried to avoid specific commitments to new policies in her election manifesto because she does not want to be tied down in the future. And she has relied on a few phrases, such as "strong and stable government" that are beginning to sound vacuous and annoying. By contrast, Mr Corbyn, who was widely derided for his weak leadership of his party, is beginning to look and sound more confident.
Can the Conservatives win?
Returning to Brexit as the main focus for the rest of the campaign is a risk. Voters may now ask where this will leave Britain. Will it be stranded offshore, a friend of neither America nor Europe? Will it need to forge a new defence policy that relies less on NATO and more on its own forces, which are being relentlessly cut back as the cost becomes ever higher?
Mrs May called the election to give herself a big enough majority to ignore the objections by the anti-EU right wing of her own party that would not vote for any compromise deal with the EU.
If she wins only a few more seats, she will suffer a moral defeat (even if she wins the election) and will still be dependent on the votes of her party opponents. She may now find it impossible to negotiate a deal with Europe that does not cause Britain considerable economic harm. The one person she will not thank for this development is Angela Merkel.
Michael Binyon is a GPI Senior Adviser. He has been an editorial writer, columnist and foreign correspondent for The Times (of London) since 1971. For 15 years he was based overseas, reporting from Moscow, Washington, Bonn and Brussels, before returning to London to be diplomatic editor in 1991 and becoming the main foreign editorial writer in 2000. He retired from the staff in 2009 but still writes for The Times and other publications, and is a frequent broadcaster for the BBC and French, German, Canadian, Russian and Middle Eastern radio and television.
He published "Life in Russia" in 1983, has won two British journalism prizes and was awarded the OBE by the Queen in 2000.  
The views and opinions expressed in this issue brief are those of the authors and do not necessarily reflect the policy of GPI.
---