Issue Briefs
On a Mission to Learn: My Trip to a Syrian IDP Camp (Part 2)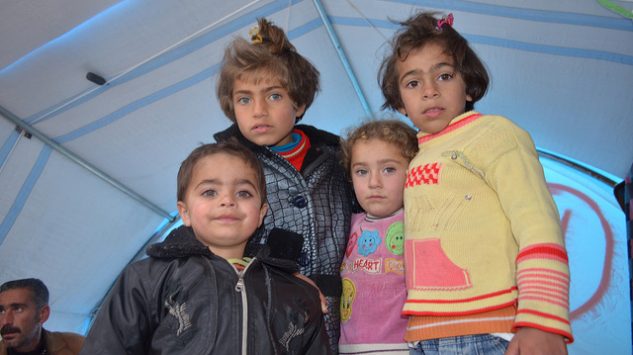 PART 2:
Let the Hard Fun Begin
Day 1 – Welcome to Qah Refugee Camp![1]
January 5, 2013 afternoon was the time to cross the border back to Qah camp. I had my laptop, camera, two Scratch Sensor Boards, and a MakeyMakey. I wasn't sure yet what activities I'd do with the kids or what materials to use, so I decided on my way to buy some paper, pencils and coloring pens.[2] Holding a Syrian passport, it was easy to cross the border.[3] I took a cab to Qah camp, and as I arrived I headed directly to the same tent I visited earlier. The kids were a bit surprised to see me again. It was usual to see strangers everyday visiting the camp, taking pictures, promising aid, then leaving, but they'd rarely come back. Refugees considered them somehow as tourists.[4] They ran to their dad, Ahmad, telling him I was back. He told me they were preparing lunch[5] and invited me to join them.
Soon, the lunch was ready. It was rice and okra. Ahmad had four girls (4, 7, 10 and 16 years old) and a son (12). All the children joined us for the lunch, except for the older girl. It was a conservative society and girls over 13 were generally not encouraged to interact with stranger men or participate in coed activities. I noticed some of the girls were not eating. One of them said they were on a diet as they were recovering from jaundice. It started with their cousin, and soon most of the kids in the family were infected due to the lack of proper health care and the crowded tents. The whole camp had a poorly-equipped clinic operating from 9 am to 4 pm with a doctor and a nurse. For emergencies, people had to go to a relatively close hospital[6].
I didn't see many teenagers around the camp. I understood teenage girls were not expected to be wandering around, but I asked Ahmad about the boys. He said they'd be helping their families collecting wood or in the nearby villages trying to find something to do for money.
After lunch, a few relatives joined us for tea. Meanwhile, the kids were taking pictures. I asked them if they thought of any activities they'd be interested in doing in the following days. They didn't have much to say except for they liked photography. I showed them how that can be used to create stop-motion animations. The grandfather who joined us after lunch asked me how things were in other camps. I told him the little I knew about different camps in Syria, Jordan and Turkey. I had a short documentary about Zaatari refugee camp in Jordan, called Tiny Souls, and suggested seeing it. Zaatari is a big camp in the desert with more than 65,000 refugees then. The stories that were coming from that camp were not pleasant[7], and I thought it was a good idea to talk about it because people were complaining in general and knowing about less fortunate refugees would help them appreciate what they had.
Things didn't go as planned. The kids (and adults) noticed every single aspect where the situation was better than theirs: bigger tents, some access to schooling, etc. On the other hand, they didn't recall what was mentioned about the wind destroying tents in Zaatari. Maybe I chose the wrong movie 🙂 I liked, however, how the kids were giving their full attention to what the kids in the movie were saying.
I left with Ahmad to the mosque for prayer. As we were away from the kids, I asked him why they moved to the camp. He said their house was bombarded. Luckily the family was staying in a neighbouring house that got only minor damage. Two kids were slightly injured when the glass of the windows exploded. I asked him whether the kids showed any signs of trauma after that. He said they were normal,[8] [9]but at one incident they got so scared when a fighter flew over the camp a month before. Before destroying their house, the kids were full of excitement whenever aircrafts were flying around.
Crisis intervention wasn't my field of expertise (and still isn't), so I asked some friends for advice and read a little about the topic. I understood that the main strategy was to listen and empower the survivors and trust them to seek their resilience by themselves, which was somehow similar to the way I was trained to approach learning. Anyway, I was comfortable about trying things out because I believed it was the only way to learn. When I came back to the tent, I told the kids that with the camera I had we could make a documentary similar to the one they watched earlier about Zaatari camp. They liked the idea, so I suggested starting with telling some stories. The 10-year-old girl gathered the younger girls and started with a story. Frankly, I didn't understand much of her story. I was from the capital in the south of Syria, while the kids were from a small town in the north: they had a different accent and used some different words, and my ears weren't trained to that yet. We continued anyway. I suggested recording with the youngest girl (4 years old) after that. We started with a story, which was followed by a couple of songs. The brother was shooting most of the time, and after every shot, I discussed with the kids the little I knew about camera angle and lighting to make the next one better.
Next, It was Mustafa, the 12-year-old brother's turn to be interviewed. I asked him to talk about the family's journey to the camp, the good things and people he encountered in that journey, and how he managed to rise up to the challenge. I got mostly what I considered pre-packaged answers, the ones you get from a student who wants to impress his teacher. For example, when asked about where did he get his strength from, he answered: "[from] family, school and education… because when you have an exam, you stop playing outside and study more to pass to the next grade." That didn't work, maybe because the nature of the questions were foreign to him, I was a stranger myself, the presence of the camera, his dad listening and trying to dictate answers indirectly, or a combination of these. I didn't want to stress Mustafa out so I thanked him and told him I got what I wanted (and decided to find another way to talk to kids).
It was already dusk. I had to leave to go to the guy who told me he'd manage my accommodation in the camp. His name was Mouaz. He was managing the finance of the camp, which made him a central figure there. He offered me a place in the storage tent where he also spent the night. It was getting colder so we went early to sleep. In addition to my sleeping bag, I used three blankets to stay warm.  [10]
Day 2 – Visiting the School
Ahmad's kids and I agreed to meet in the morning to go to the school together. I told them we'd be drawing and that it'd be fine to invite some friends. Saturday to Thursday, boys met at 10 am in the mosque tent to receive religious schooling. At noon, prayer was held, then it was the girls' turn. The teacher, Waseem, was a volunteering refugee and didn't receive any training to do that. He offered help because he thought kids shouldn't be left without education. He had around 50 boys and 50 girls, ages 6-13. [11]Ahmad's children didn't go to this school.
When we entered the tent, there was already a session going on, with the boys sitting in the front half of the tent. I hadn't met Waseem before and didn't know what to expect without prior coordination with him. I had seven girls and a boy with me. I gave two sheets of paper and a pencil to each of them, told them to draw whatever they wanted, and asked them not to make much noise.
Most of the drawings were houses with rivers and mountains. Whenever someone finished and showed me their drawing, I asked her to tell me about it. They mostly named the things they drew: a house, trees, birds, etc.
When the boys finished their lesson, some of them came to me asking if they could do the same. I distributed the sheets and pencils. The process went the same except for I started getting tanks and helos instead of birds and trees. That would become the general theme of the drawings for the next few days.
This very short video shows how the school usually looked like with religious instruction in the front and my session in the back.
With the end of the girls' session, I had more boys and girls around me. I decided to screen Tiny Souls again. I had different goals in mind this time. I wanted my kids to emotionally connect to other kids from a different region in Syria and realize that they were not alone in this, and wanted them also to see other kids expressing themselves and talking about what they'd been through. They paid good attention to it (some adults did too). The group was too big for me to ask for reflections, so I concluded the screening with a general question on how much they enjoyed it.[12]
Afterwards, many kids started asking me to take pictures of them. I didn't like that (it was again that tourist feeling), but there were too many kids to whom to give the camera to take pictures by themselves. Instead, I offered them a stop motion activity. I showed them one working example, struggled myself with other two unsuccessful trials,[13] then asked them to divide into teams to create simple projects. I asked them to create the characters and the sequences while I took the pictures. Soon, with some suggestions, they started creating their own techniques to overcome the problems they were facing. Different teams created projects of varying qualities, but some merely enjoyed the idea of cutting paper to create different artifacts.
This was my first experience of the problems the kids had as a community. Each team had pencils and papers, but there was only one multi-tool scissors to be used by all the teams to cut shapes. They were fighting all the time for it and coming to me complaining about some team who had been using it for a long time. They lacked the language to communicate respectfully,[14] and they were using the same language the adults used to express distrusting others.
To make the challenge nicer, the multi-tool disappeared at one point. I was always asking for it because some team needed it, and suddenly no one knew where it was. A couple of kids named a boy who had it, and thought he left with it (they said "stole it"), and that was it. They just continued their work. I didn't like the wording nor the passive reaction they had. I told them that he might have borrowed it for some reason, then said the activities would be discontinued if the multi-tool wasn't back. We were experiencing each other for the first time, and I wanted them to realize that they were not only responsible for their personal actions, but also held a communal responsibility so they wouldn't expect it was fine to be passive. Thankfully, three boys left the place and came back after a few minutes with my multi-tool 🙂
To be continued…
Abdulrahman Y. idlbi is a consultant and researcher focusing largely on creative learning activities and environments for youth, especially in the context of the Syrian revolution. He provides consultation on educational technology, the design of learning spaces, and education for refugee children.
Abdulrahman holds a master's in Media Arts and Sciences from the MIT Media Lab where he worked with the Lifelong Kindergarten group and was a member of the team developing Scratch: a programming language, environment and community designed for children to express themselves creatively.
Before joining the Media Lab, Abdulrahman worked in Syria and Saudi Arabia in designing and implementing various programs for young people to learn and create in different contexts, including school, after-school and summer programs.
The views and opinions expressed in this issue brief are those of the authors and do not necessarily reflect the policy of GPI.
Sources:
[1] Location: http://goo.gl/maps/4l3Cl, Population: about 4000, Tents: 520.
[2] These proved to be priceless resources. The kids in the camp hadn't seen any for months. I had even some kids offering the very little money they had to buy pencils. I couldn't provide any because I needed every one of them to run my activities. Other than that, there were barely any materials to play with: resources were scarce and expensive (the currency had already lost 50% of its value) and most of the refugees didn't have any source of income. Anything that could be burnt would probably be used for heating.
[3] Non-Syrians can still enjoy a public people smuggling service in both directions 🙂
[4] I remained one for my first couple of days.
[5] Lunch is the main meal in Syria (and the Middle East in general).
[6] Here's a short story to explain what "emergency" meant: One night, I was staying with the camp's manager, and a man came running to us saying that his baby had diarrhea and was vomiting. The answer was it wasn't an emergency and could wait till the morning. An emergency usually meant suffocation or severe burns due to accidents related to the means of heating used in the tents.
[7] Zaatari camp was flooded then, and a few kids died of cold a few weeks earlier.
[8] This was the typical answer I got from parents and volunteers. Many parents told me that their kids needed someone to tell them what they were through, but they'd always say the kids were "fine."
[9] Later on, I found out one of his girls continuously drew the same picture with her cousin: a house with happy people and helos dropping bombs.
[10] Each refugee received only three blankets.
[11] Older boys would be helping their parents or trying to get some money in the nearby villages. Older girls wouldn't join unless there were female teachers.
[12] I didn't take pictures during the screening (and not many while I was working with the boys). I thought that would be distracting and would prevent them from behaving normally. On the other hand, when I worked with the girls earlier that day, I already knew most of them, and they worked with/around the camera a few times, thus taking pictures wasn't a problem.
[13] But always telling them that there were things they had to be aware of when they did their own projects.
[14] Saying something equivalent to "What's the magic word?" never sufficed.
---