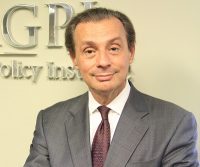 "I am honored to have the opportunity to work with a great team, and build with them on the excellent work already done by GPI", von Schirach stated. "Relying on its large and diverse global network of scholars and experts, the Washington DC based Global Policy Institute is well positioned to continue its efforts aimed at producing serious and at the same time timely research on a set of key issues that affect the world community" added von Schirach. "GPI will continue to focus on these main areas: Economy, Energy, Immigration, Education, and Global Affairs. At the same time, GPI will host at its location in the heart of downtown Washington, DC events featuring American and international scholars, along with policy-makers, and the media".
Paolo von Schirach is the Founder and Editor of the Schirach Report, (www.SchirachReport.com), an online publication focusing on politics, economics and international security. He is a frequent lecturer and commentator on US foreign and domestic politics and global issues. He has been working for many years in emerging markets as an expert in investment and trade promotion.
Mr. von Schirach holds higher degrees from the London School of Economics, Georgetown University where he was also a Fulbright Scholar, the University of Pisa, Italy, and the Scuola Universitaria Superiore Sant'Anna of Pisa.
He worked as a Research Associate at CSIS which was followed by filling the role of Director of Communications, and later on Senior Research Fellow, at the Atlantic Council.  He was Deputy Director of the Global Security Project at Georgetown University.
More recently, he was an Adjunct Professor in the Graduate Program of the School of Foreign Service at Georgetown University, (MSFS). He has been a frequent lecturer at the Foreign Service Institute, (FSI), the Federal Government's primary training institution for officers of the U.S. foreign affairs community.
Mr. von Schirach is currently serving as an Adjunct Professor of International Relations at BAU International University, focusing on contemporary world politics, and the role of innovation in economics.
Paolo von Schirach was born in Italy. He is a naturalized US citizen. He lives in Washington, DC.
---